The winemaker of the month presents you this time Christian Dautel of Weingut Dautel. Located in Württemberg, Weingut Dautel is known for breaking tradition, becoming the first producer in the region to estate bottle wines and produce Chardonnay.
---
Meet Christian Dautel
Estate: Weingut Dautel
Region: Württemberg
Village: BönnigheimFocus: 24% Riesling, 18% Spätburgunder, 16% Lemberger, 12% Weissburgunder, 30% Other (Trollinger, Cabernet & Chardonnay)
Background
The Dautel family is deeply intertwined with the history of Württemberg, growing grapes in the lesser-known region for 500 years. Württemberg was dominated by co-ops for a period, with producers in the region forced to divide their property between children. But as individual vineyards continued to get smaller with every generation, Ernst Dautel broke away from this practice in the 1970s.
Known as a rebel in the wine world, Ernst transformed Weingut Dautel into a trailblazing producer, one of the first wineries in Württemberg to bottle its own wines without relying on other co-ops for fruit. His oldest son, Christian Dautel, was deeply influenced by his father's passion for quality wines, growing up in family vineyards and vacationing at some of the world's most prestigious estates.
Already well versed in wine, Christian attended Geisenheim University to study oenology just like his father. During his studies, Christian traveled and interned with some of the world's top producers in South Africa, the US, Australia, Austria and France. There, he gained inspiration for new techniques to apply back home, always keeping the Dautel family philosophy and the identity of Württemberg in mind. Christian finished his studies at Geisenheim in 2010 and returned home to produce his first vintage alongside his father. Today, he is the owner and lead cellar master at Weingut Dautel and is involved in absolutely everything at the estate. From working in the vineyard to leading wine tastings, Christian applies a hands-on approach to all of his roles at Weingut Dautel.
Vineyards
According to Christian and the Dautel family, great wines are made in the vineyards, not in the cellar. Viticulture has been practiced in Württemberg since the 8th century, and the region's steep slopes and rich, 200-million-year-old soils are Weingut Dautel's focus. With just 17 hectares of vineyards across four Grand Cru (Grosse Lage) and two Erste Lage sites, Christian plants grapes according to location, soil properties, and the microclimate of each unique location.
Weingut Dautel adopts a natural yet intensive approach in the vineyards, using gentle cultivation efforts like integrating insects to stabilize the ecosystem while increasing biodiversity. Every vineyard is organically fertilized and selectively picked by hand to ensure the healthiest, highest quality grapes each vintage. While tradition is the backbone of the estate, Christian has developed his own style in the vineyards, thanks to his exposure to the world's top producers.
"The love for great and unique wines motivates us to get the best out of our different vineyards each year. Working in harmony with nature is essential for us." – Christian Dautel
Wines
In the cellar, Weingut Dautel sticks to the belief that wines are not made by a formula, but by a deep understanding for each unique site and grape variety. Bringing out the specific character of each terroir is always the goal for Christian across vintages. The estate focuses on producing elegant, complex wines with great aging potential, from Dry Rieslings to Pinot Blanc to Lemberger and everything in between.
To understand the house style, Christian recommends starting with the Estate Riesling. With flavors of fresh herbs and fruit, Dautel's Rieslings are the perfect example of the elegant, fine style he strives for.
Weingut Dautel is known as a pioneer in barrique aging, working with small oak barrels since the mid-1980s. Always looking towards innovation, Christian relies on larger oak barrels when needed to elevate the grape variety and vineyard without overpowering the wine with wood notes.
"Great wines are defined not only by complexity and concentration, but also by balance and elegance." – Christian Dautel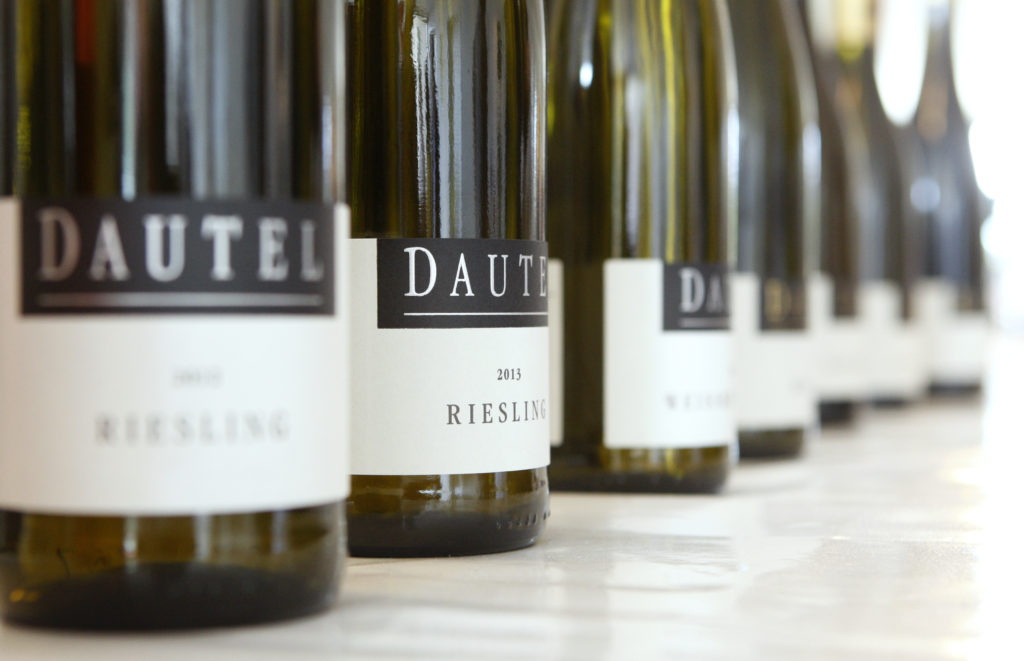 Weingut Dautel's rebel status was truly solidified in 1985, when Ernst Dautel fought for official approval to grow Chardonnay in the region while in pursuit of authentic, high-quality wines. Ernst ultimately gained special permission to grow Chardonnay, which is now one of Württemberg's top varieties. Christian and Weingut Dautel still cultivate grapes from those same Chardonnay vines to this day, with no sign of stopping anytime soon.
Explore more
Visit Weingut Dautel's website
Maahantuoja Suomessa: Wine Temple, www.wine-temple.fi Pysy ajan tasalla tulevista viinitilakertomuksista ja saksalaisista viineistä. Seuraa meitä Instagramissa, Twitterissä ja Facebookissa!