The winemaker of the month highlights you Eva Fricke of Weingut Eva Fricke. Located in the Rheingau, Weingut Eva Fricke is dedicated to growing and making expressive and pure Rieslings that reflect the character of each site and vintage.
---
Meet Eva Fricke
Estate: Weingut Eva Fricke
Region: Rheingau
Village: Eltville
Focus: 98% Riesling, 2% Pinot Noir and Pinot Blanc
Background
Eva Fricke's background in wine is unlike many German winemakers, making her estate's success even more impressive. Born to two doctors in the northern Germany city of Bremen (where beer reigns as king), winemaking wasn't on Eva's radar until the summer before she graduated from school.
At 17 years old, Eva discovered her passion for winemaking while working at wineries in the Nahe Valley in Germany and in South Africa, leading her to enroll in Germany's renowned Geisenheim University to study viticulture and oenology. Eva interned nationally and internationally in Spain and Australia, later completing additional studies for Business and General Management at the European Business School in Oestrich-Winkel. From there, she began her first job out of college at a winery in Australia.
Eva returned to Germany in 2002 to work for famous Rheingau estates J.B. Becker and Weingut Josef Leitz, where she started as the vineyard manager and later became the technical operations manager over 7 years of the domain. While Eva was able to work in winemaking, she set her sights on founding her own estate one day. In 2006, Eva produced her very first vintage of just 600 liters from less than .2 hectares of land she had leased in the Rheingau.
With her dream of owning her own winery finally coming true, Eva officially left her job in 2011 to solely focus on her own domain. Today, Eva is the founder, owner, and general manager of Weingut Eva Fricke, which currently consists of 17 hectares of vineyards and is focused on producing the finest Rieslings in the Rheingau through sustainable and ecological farming practices.
While still considered a young winery, Weingut Eva Fricke has received many impressive awards, including both "Newcomer of the Year" and the "Best Startup" in 2013, as well as "Newcomer Winemaker of the Year" in 2015. In 2020, Weingut Eva Fricke became the first estate from the Rheingau to ever receive three 100-point ratings from top reviewers, and its wines are poured at the top restaurants and hotels all over the world.
Vineyards
Weingut Eva Fricke's main focus is Riesling, with 98% of vineyards dedicated to the grape. The estate's vineyards are located in two contrasting parts of the Rheingau region, showcasing the diversity and potential of the region's soils and characters.
The vines in the upper Rheingau around Kiedrich and Walluf grow on sandy loess and loam soils, partially mixed with clay, quartzite and riverbed sediments, creating fruit driven, classical Rheingau Rieslings. Wines from the most Northern part of Rheingau are extremely mineral-forward, sometimes displaying nearly salty characters.
Conservation and sustainability are top priorities at Weingut Eva Fricke, with the estate dedicated to cultivating grapes and revitalizing old vines within a UNESCO-world heritage site. In fact, when other winemakers turned their backs on vineyards in Lorch, Eva carefully reawakened the vines. Today, winemakers and estates from all over are interested in these forgotten and abandoned sites, and prices for land in Lorch are now some of the most expensive in all of the Rheingau.
All of Weingut Eva Fricke's grapes are certified organic and 80 percent handpicked, with the estate practicing ecological viticulture practices since 2011 and receiving its organic certification in July 2016. Since its start in 2006, the winery has never used herbicides or pesticides.
"It is my ambition to decipher the individual expression of the soils, the local climate and the specific details of each vintage." – Eva Fricke
Wines
Eva's wine philosophy is simple: produce pure and delicate wines with a focus on expression and elegance. As both a complex and sensitive grape variety, Eva has unlocked Riesling's potential to express the Rheingau region's distinctive character – from minerality and fruitiness to complex intensity.
There is no recipe for winemaking at Weingut Eva Fricke. Instead, vinification is decided individually by vineyard, vintage, selection and maturation of grapes to create honest wines reflective of its environment. Wines spend seven to eight months on lees and are vinified in stainless steel tanks. With no animal-based products used, the winemaking process has followed the guidelines of The Vegan Society since 2017.
Weingut Eva Fricke regularly supports social and non-profit projects in Germany and internationally with its wines. The estate's "Combat Hunger" initiative donates a share of wine sales to support organizations that fight hunger.
Eva recommends trying the Rheingau Riesling first to dive into the estate's pure and crisp style, followed by a village and single vineyard wine. According to Eva, a sophisticated tasting can always end with one of the estate's noble sweet wines. She considers noble sweet wines as the crown of each portfolio and directly related to every vintage's characteristic. Therefore, they are no standard product that should be forced; each year she takes nature as the base of her work to make the best out of the nature given.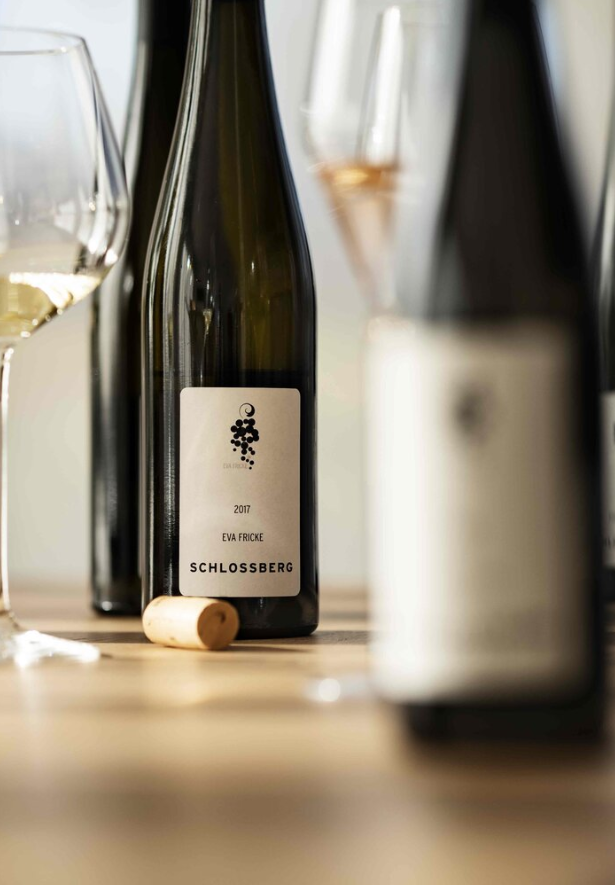 Eva's award-winning wines aren't a coincidence, but instead an expression of the winemaker's deep knowledge and hard work in the vineyards. In fact, Eva has made it her mission to share the importance of ecological farming and revitalizing soil and sites in the Rheingau by studying her wine's minerality.
By photographing the dried minerals in wines from Lorch with naturally-occurring quartzite from the site, Eva found that conventionally farmed plants were losing their natural ability to build original cell structures. In contrast, the revitalized, ecologically farmed vines produced more intense, dense and symmetric crystals.
While Eva's winery has won many impressive accolades, her favorite award is the visual proof of her hard work in the vineyard over the past years.
Tutustu lähemmin Weingut Eva Fricke
Maahantuoja Suomessa: Carelia Wines https://careliawines.fi Pysy ajan tasalla tulevista viinitilakertomuksista ja saksalaisista viineistä. Seuraa meitä Instagramissa, Twitterissä ja Facebookissa!