The wine producers of the month are Mark and Christine Barth of Wein- und Sektgut Barth, located in the Rheingau. The Barths are pioneers in the Sekt category, known for producing one of the first single-vineyard sparkling Rieslings, and played a leading role in the development of the new VDP.SEKT.STATUT standards.
---
Meet Mark and Christine Barth
Estate: Wein- und Sektgut Barth
Region: Rheingau
Village: Eltville am RheinFocus: Riesling, Pinot Noir, Pinot Blanc, Cabernet Sauvignon and Scheurebe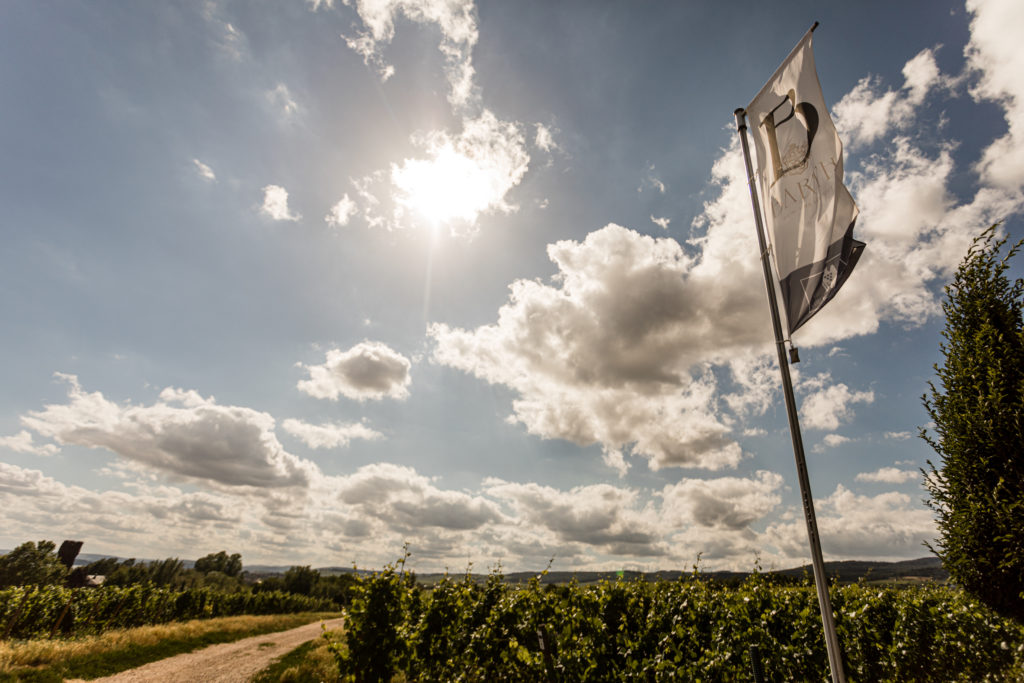 Background
Surrounded by VDP.GROSSE LAGEN and VDP.ERSTE LAGEN vineyards, Wein- und Sektgut Barth has preserved the top-quality winemaking traditions of the Rheingau for three generations, beginning with Hans Barth in 1948 followed by his son Norbert in 1987. Norbert's daughter Christine grew up in the Rheingau alongside the estate, where she assisted her family with winemaking from a young age and got to know the unique vineyard sites around her. Just like her family before her, Christine pursued wine as a career, studying International Wine Business at the University of Geisenheim and eventually returning to Wein- und Sektgut Barth to keep the tradition alive.
Mark, Christine's future husband, moved to the Rheingau at the age of three from the United States. While his own grandparents had lived in the region and owned vineyards, Mark wasn't interested in wine, opting to study Business & IT, until he met Christine. It was she who ignited his lifelong love for winemaking. Mark then accepted an apprenticeship at the famous Schloss Vollrads estate and dove headfirst into the industry, ultimately studying viticulture and oenology in Geisenheim and gaining experience in South Africa and Austria.
Mark officially entered the family business in 2011, taking over his father-in-law Norbert's responsibilities, who he considers his role model. Christine and Mark are the official owners of the Wein- und Sektgut Barth since 2017, where Christine manages finances and marketing while Mark oversees wine production and sales. Beyond maintaining what had already been created before them, the couple knew there was much more in store for the Barth estate.
Wein- und Sektgut Barth is best known for revolutionizing sparkling wine production at Barth and in the Rheingau as a whole, starting with Christine's father. Norbert was one of the first winemakers in Germany to start producing sparkling wine in his own cellar over 30 years ago. Until the 1980s, the production of sparkling wine was reserved for cellars. Mark then developed the winery's sparkling wine production by pioneering Riesling single-vineyard sparkling wine – one of the first of its kind – and Barth was the first winery to award a sparkling wine the VDP.GROSSE LAGE label. Mark and Christine then worked to spread high-quality sparkling wine throughout Germany and played a leading role in developing the VDP.SEKT.STATUT, which applies the VDP's strict standards to still wines and sparkling wines.
Vineyards
The Barths cultivate 22 hectares with vines up to 50 years old. Their vineyards are mainly located on south and south-west slopes of the Rheingau valley and offer excellent growing conditions. They extend on gently sloping hillsides, with soil consisting mainly of clay, loess, and quartzite.
The estate's main focus is Riesling and Burgundy varieties, including Pinot Noir, Pinot Blanc, and Cabernet Sauvignon. All vineyards are organically and ecologically cultivated, working to preserve the loose, lively soil and personality of the sites. The estate also plants wild herbs and flowers between the rows of vines to promote biodiversity, leading to the finest grapes and exceptional terroir.
As a member of the VDP since 1999, Wein- und Sektgut Barth cultivate only the best sites and harvest limited yields through traditional viticulture methods.Christine and Mark see themselves and the team as working hand-in-hand with nature. In their minds, excellent wines are a direct reflection of the commitment and personality of the people creating them.
"When the vineyard is naturally, beautifully, and sustainably worked and when the grapes are processed with care, sensitivity and calmness complemented by skilled craftsmanship, then a wine is created that creates excitement." – Mark Barth
Wines
In the cellar, the only thing left to do is accompany and preserve what nature has produced. The winemaking style is rooted in discipline, with every process aimed at outstanding quality. All grapes are hand-harvested and gently pressed as whole bunches. The estate's sparkling wines are fermented first in barrels and tanks followed by traditional second fermentation in the bottle. The bottles then lie on the lees for 24-72 months until they are hand-riddled (any collected sediment is loosened) and disgorged (any remaining yeast is removed before corking).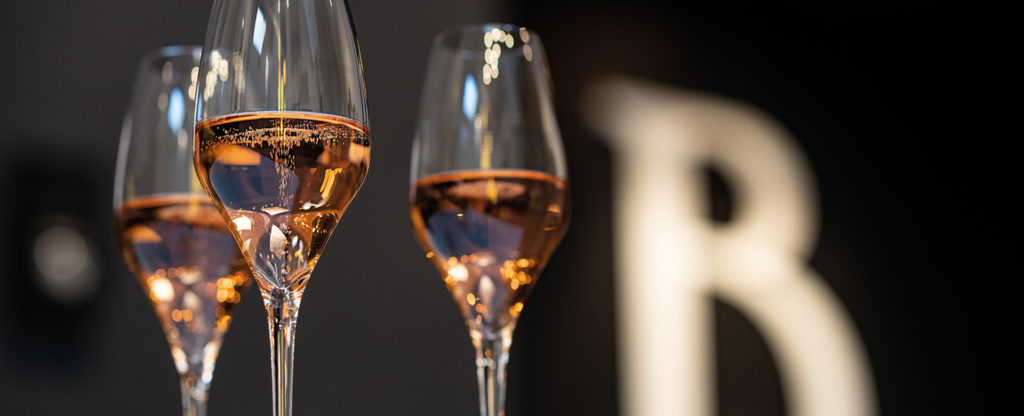 Every bottle of organic and vegan wine from Barth – whether sparkling or still – carries an individual character. The family strives for elegant and balanced bottles through slow and natural aging, always using natural yeast to slowly unfold the wines' potential.
Of all the estate's wines, Mark and Christine recommend first trying a sparkling wine, such as the ULTRA Pinot Brut Nature, to understand the fresh and full character of Sektgut Barth's offerings. From bottling the base wine to labeling the bottle, Barth Sekts are handled by the estate's team of experts over 55 individual steps.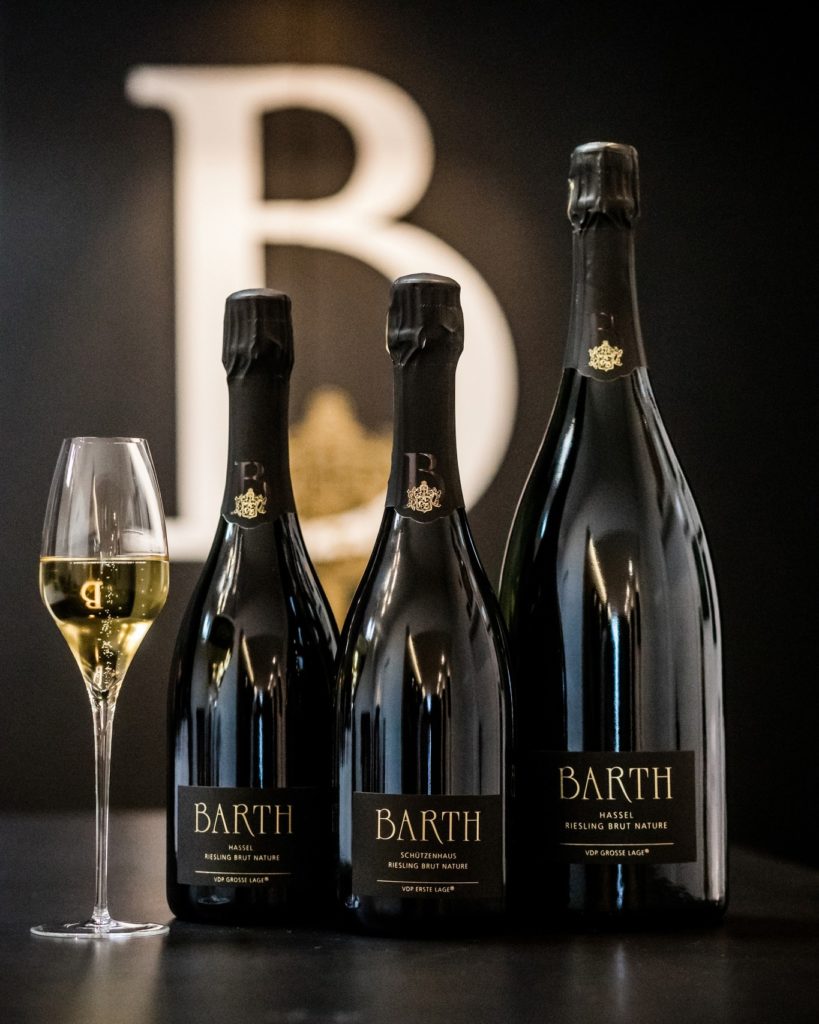 Wein- und Sektgut Barth regularly receives high ratings and awards thanks to its quality winemaking. Most recently, the winery was awarded the Vinum Sekt Award in 2022 by Vinum magazine, which identifies standout sparkling wines every year across multiple regions. Barth's 2015 Hattenheim"Hassel" Riesling Brut Nature VDP.Grosse Lage won "Sparkling Wine of the Year," standing out amongst traditional Burgundy-based sparkling wines and marking a unique milestone for sparkling Riesling as a whole.
"I strive for elegant and natural wines that radiate inner peace through slow, organic aging and reflect all facets of our historically classified individual sites." – Mark Barth
A Cellar With A Story
The Barth family prides itself on creating a rare combination of tradition and innovation, which is exemplified through their award-winning, state-of-the-art vinotheque. Built almost ten years ago, the tasting room is well-known for its unique design, awarded the "Insider Award" as soon as it opened – one of the most coveted awards in the field of interior design.
Visitors are encouraged to interact with the Barth estate's history and viticulture, and guests can literally peer into the winemaking processes through a glass viewing window built into the floor above the cellar. Three cubic natural light windows installed diagonally into the ceiling each face one of the estate's classified vineyard sites. Learn more from The German Wine Institute.
Tutustu lähemmin Wein- und Sektgut Barth
Maahantuoja Suomessa: Norex Selected Brands Oy Ab
Pysy ajan tasalla tulevista viinitilakertomuksista ja saksalaisista viineistä. Seuraa meitä Instagramissa, Twitterissä ja Facebookissa!