We introduce to you the wine producer of this month, Theresa Breuer of Weingut Georg Breuer! Located in the Rheingau and known for elegant dry Riesling, Theresa Breuer runs the 130-year-old estate with a focus on work in the vineyard and a passion cultivated by family history and years of personal experience.
---
Meet Theresa Breuer
Estate: Georg Breuer
Region: Rheingau
Village: Rüdesheim am Rhein Focus: Riesling and Pinot Noir
Background
Born in 1984 and raised in the Rheingau area, Theresa Breuer has taken on a full approach to winemaking at her family estate, Georg Breuer. Following her studies in International Wine Business at the University of Geisenheim and a harvest in Clare Valley, Australia, Theresa turned to the tourism industry but quickly realized her heart belonged with wine. At just 20 years old following the untimely passing of her father, she officially began working at Georg Breuer in 2004, finding comfort working in the vineyards that her father had spent years tending to.
The estate was founded in 1880 and has been owned by the Breuer family since its purchase in the early 20th century by Peter Breuer. It eventually passed to his son Georg, who gave the winery its current name, expanded the holdings, and began shipping wines across Europe. Georg's sons Bernhard (Theresa's father) and Heinrich continued their father's work, advocating for a vineyard classification system based on geology, historical precedent, and quality, and embracing a drier style of Rheingau wine. Bernhard was a key member of Charta, an organization formed to promote the Rheingau as perfectly suited for production of high-quality dry Riesling, and his work garnered the estate international recognition from the 1980s to today. The brothers eventually expanded the estate's holdings to over 30 hectares, including top sites in Rüdesheim and Rauenthal.
Today, Theresa owns the now 40-hectare estate, with her responsibilities ranging from overseeing daily processes to sales and marketing, supported by a talented team, vineyard manager, and cellarmaster.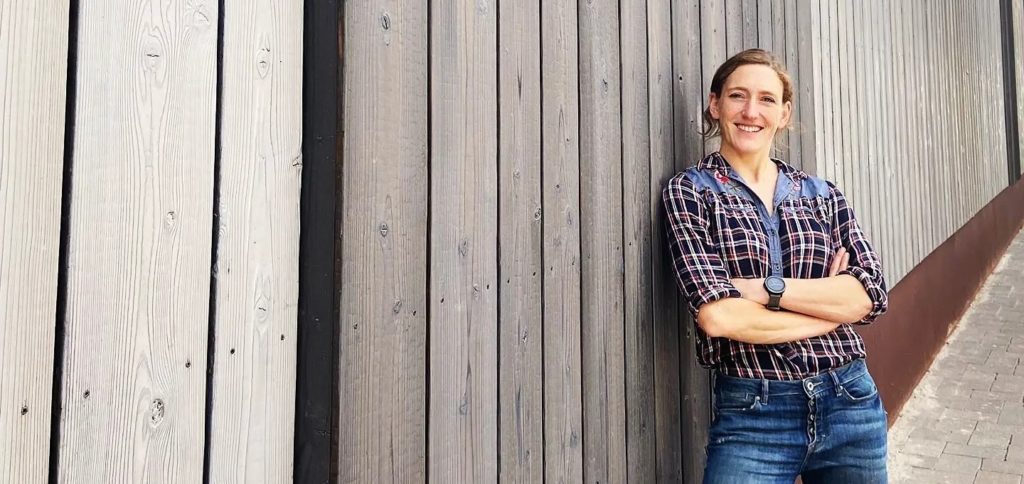 Vineyards
The Georg Breuer vineyards are split into 180 parcels throughout three villages in the area, planted with 80% Riesling and 12% Spätburgunder (Pinot Noir), with Pinot Gris and Pinot Blanc making up the remainder of the vines. 50% of the winegrowing sites are located on steep slopes of varying terroirs, with three prized locations of Rüdesheim – Berg Schlossberg, Berg Roseneck, and Berg Rottland – as well as the Monople site of Nonnenberg in Rauenthal.
The estate has been certified sustainable since 2013, with every vineyard farmed utilizing organic methods according to the standards of Fair'N Green, an association for sustainable viticulture, of which Georg Breuer was one of the first members. The estate's environmentally conscious methods include reducing yields, no use of herbicides or pesticides, natural fertilizers, and crop diversification to cultivate a healthy ecosystem. Georg Breuer is part of the Germany-wide AmBiTo project in effort to preserve biodiversity, and their collaboration with Fair'N Green extends to working towards climate-neutral production in all aspects of energy and resource consumption.
Wines
All Georg Breuer wines are made with traditional artesian winemaking methods following intensive focus on work in the vineyards and grape health during harvest. The estate prides itself on prioritizing extract and depth over yield, determining the date of harvest by the health of the grapes to ensure a perfectly balanced, structured, and aromatic wine. Once handpicked, grapes are gently pressed and the fermentation process either begins naturally or is started with pied de cuve – the use of wild native yeast from the vineyard for a clean fermentation that will consume all sugars, resulting in a dry wine. For the top wines, fermentation and élevage is in large old barrels while a mix of barrel and stainless-steel is used for the estate wines. Each wine must pass the estate's stringent requirements for quality, as the team believes they should enjoy drinking each and every wine they create. Georg Breuer wines are unique, as they have minimal additions, making their purity the standout factor.
"Our wine should last long without being loud at an early stage." Theresa Breuer
Mirroring the Rheingau region's history, Georg Breuer is known especially for their Rieslings, from Village Rieslings that represent the characters and attributes of Rüdesheim, Rauenthal, and Lorch, to the Grosses Gewächs (Grand Cru) single-vineyard Rieslings expressing the individuality of the very best sites. For those new to their wines, Theresa recommends the "Terra Montosa" Riesling. The name, meaning "steep land" in Latin, originates from records dating back to 1074, highlighting the history of vineyards in the Rüdesheim slopes. She notes that the steep slope wine captures grapes from their most beautiful sites in one bottle, demonstrating the essence of the winery through taste.
Beyond Riesling you can also find Spätburgunder (Pinot Noir) from Georg Breuer. The estate also produces the other Pinots (Blanc and Gris) and has even begun cultivating the almost-forgotten historic grape Orleans.
Wine Meets Art
While looking for a new way to make their wines pop out on the shelf, Bernhard Breuer began tapping artists to design the Rüdesheim Berg Schlossberg Grosses Gewächs labels in 1980, a tradition continued by Theresa. Each year, an artist is selected to visit the estate and get a feel for the wine and philosophy. With full creative control to express their vision in their chosen medium(s), the artist then designs a label that they feel encompasses the wine, the vineyard, and the estate itself. The painting, drawing, or graphic work is then printed on the bottle as is. In exchange for their work, the artists receive bottles of the wine to enjoy as they wish. To see more vintages of the Berg Schlossberg labels, see here.
"In the end, it is about an exchange of wine and art." Theresa Breuer
Tutustu lähemmin www.georg-breuer.com
Maahantuoja Suomessa: Vindirekt Finland Oy
Pysy ajan tasalla tulevista viinitilakertomuksista ja saksalaisista viineistä. Seuraa meitä instagramissa, twitterissä, ja facebookissa @saksanviinit.