"Winemaker stories" profiles one German winemaker to give you a behind-the-vines look at the world of German wine. This month we're focusing on the women behind Weingut Meyer-Näkel, sister winemakers Meike and Dörte Näkel from Germany's
Ahr region
. Meyer-Näkel is a member estate of the German association
Fair 'N Green
, which provides guidance, standards, and certification for winemakers practicing sustainable and biodynamic viticulture.
Meet Meike and Dörte Näkel
Estate: Weingut Meyer-Näkel
Region: The Ahr
Village: Dernau
Focus: Spätburgunder
Background
The estate dates back to 1950 with the marriage of Paula Meyer and Willibald Näkel, Meike and Dörte's grandparents. They cultivated an area of just 1.5 hectares, but made a name for themselves through the pioneering production of dry red wines during a time in which sweet wine was more popular.
Meike and Dörte's father, Werner Näkel, took over in 1982. Werner was previously a high school math and physical education teacher, but the self-taught newcomer had an uncompromising focus on quality and became one of Germany's most renowned winemakers by the end of the decade. With his wife Claudia, Werner expanded the estate to its current size and even co-established projects in Portugal's Douro Valley and in South Africa's Stellenbosch region. Notably, Werner presented wine from his South African project to Nelson Mandela during the then-President's visit to Germany.
From an early age, Werner's two daughters embraced their family's passion and skill for winemaking. They both completed training as vintners and graduated from the acclaimed German viticulture institute Geisenheim before gradually taking over the wine estate – Meike joined the family business in 2005 and Dörte in 2008.
"We grew very naturally into our roles in the family wine estate. The question never arose of whether we wanted to do anything but produce wines."
As the sisters explained in an interview, Dörte recognized that winemaking was her calling as early as kindergarten, when she participated in the grape stomping. Meike's realization came when she was 19 and interning at the Dr. Heger winery in Germany's Baden region, and later with Weingut Fürst in Franken. "Wine is passion and for us, it also means home!"
Meike continues to spend time producing wine in Baden, now with her husband Markus Klumpp, where she and the 2nd generation winemaker of Ecovin-certified Weingut Klumpp began a joint wine label named "Hand in Hand" in 2009. It was wine that brought Meike and Markus together, when as winemakers from two of Germany's premier red wine regions, they met by chance at Werner Näkel's South African winery in 2003 and have been married since 2011.
Currently, Meike also serves as a vice president on the executive board of the VDP (Verband Deutscher Prädikatsweingüter), an organization recognized as promoting the highest standards in German winemaking and representing some of Germany's top producers.
wINES
Meike and Dörte maintain the Meyer-Näkel estate's focus on quality red wine. "As the 5th generation, we live the tradition of winegrowing in our family. During that time, viticulture and cellar management have undergone massive changes. Today we have great technical possibilities for cultivating our steep slopes, but our work in the cellar is still very much handcraft," Dörte shares.
They strive to make the terroir of their steep Ahr slopes tangible in their mineral-laden wines. Grapes are harvested by hand and carefully selected, and the work in the cellar focuses exclusively on gently preserving this high level of quality.
Like many wineries in the Ahr, Meyer-Näkel focuses mainly on Pinot Noir (or as it's known locally, Spätburgunder). The deep valley of craggy rocks along the Ahr River perfectly positions vines to catch as much sunlight as possible, providing additional warmth and sun exposure in one of Germany's most northerly winegrowing regions. The unique microclimate is reflected in Meyer-Näkel's red wines – fruitiness and full body in the foreground, and a slight herbaceousness and minerality on the palate.
The estate also produces Frühburgunder, a mutation of Pinot Noir that was considered extinct until the 1970's but successfully revived. Frühburgunder has many similar properties to Pinot Noir but matures earlier and typically produces softer wines with lower acidity.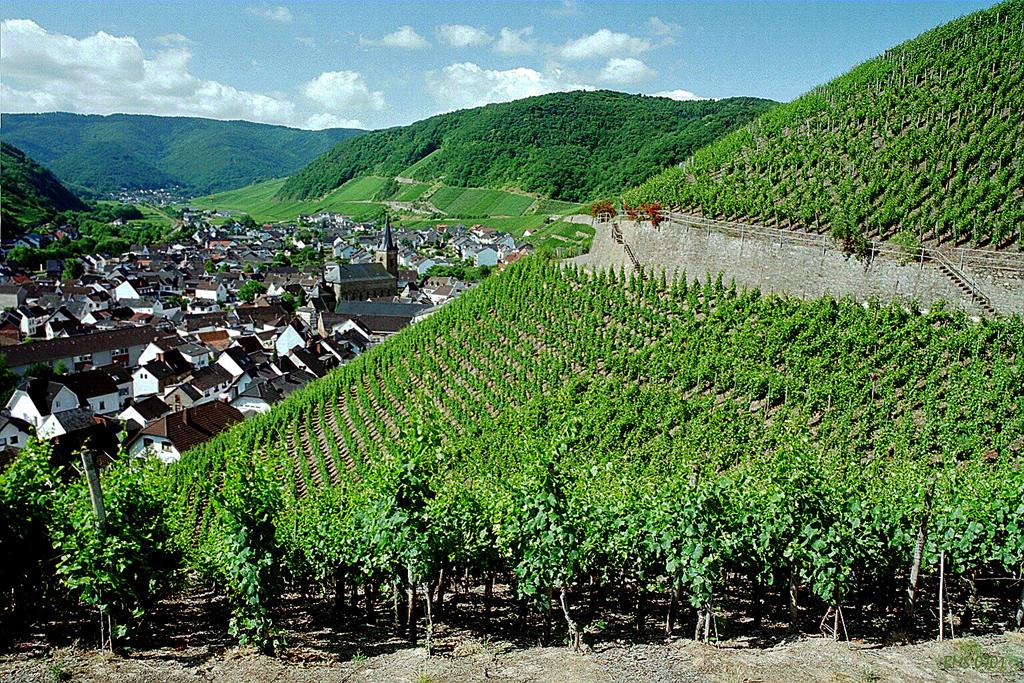 SUSTAINABILITY
Along with their philosophy of preserving the Ahr's terroir in their wines, Meyer-Näkel has placed emphasis on preserving the environment that helps their grapes flourish.
"Sustainability is a key term for our generation, for only with sustainable management in social, ecological and economic fields we are able to secure the viticulture, wine, cultural landscape and therefore our livelihood and those of future generations!"
The Fair 'N Green Sustainable Viticulture Standard mandates each winery set up processes to steadily improve its overall operations management, work in the vineyard, cellar management, and marketing as part of a holistic sustainability approach across the entire supply chain – including fair wages and social responsibility.
Beyond the vineyard and cellar, Meike and Dörte ensure ecological balance in the bottle by working with lighter bottles that use less glass, and thus lessen emissions of CO2 during both bottle production and shipping. They even procure corks sustainably and save water when rinsing barrels!
Explore more
Lisätietoja: Meyer-Näkel's website
Maahantuoja Suomessa: Tampereen Viinitukku Oy
View the estate's profile on Fair 'N Green
Pysy ajan tasalla tulevista viinitilakertomuksista ja saksalaisista viineistä. Seuraa meitä Instagramissa, Twitterissä ja Facebookissa!